What is a Freebooksy Promotion?
Freebooksy is a marketing service for authors to promote their free eBooks. When self-published authors and small publishing houses purchase advertising placement with Freebooksy, we call that a Freebooksy Promotion (also known as a Freebooksy Feature).
We send a daily newsletter to over 519,000 combined subscribers across many different genres. Our readers receive customized newsletters targeted specifically to their favorite genre & eReader preferences.
Freebooksy is a great resource for authors to gain reviews, downloads, and exposure for their books. Click here to learn more about what it costs to run a Freebooksy Promotion.
Freebooksy Promotions Include:
Newsletter Placement: Your book's cover, purchase links, and book description are included in our daily newsletter.
Here is an example of Freebooksy Newsletter Placement: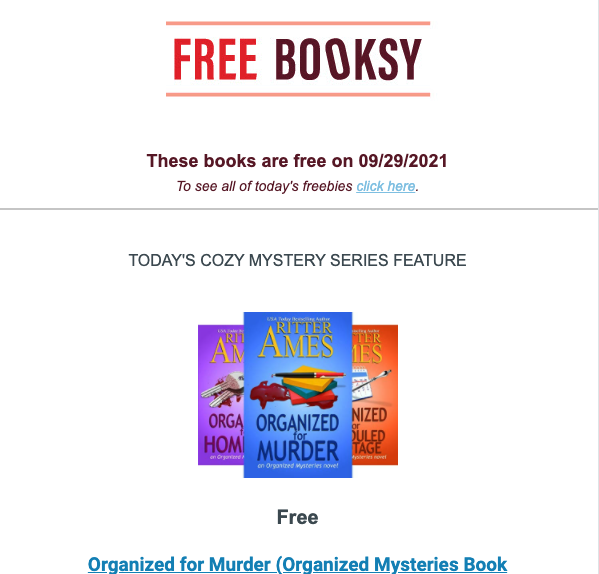 Website Placement: Your book will be featured on our website, which we update daily with that day's promotions. Web posts are categorized by genre and include your book cover, purchase links, and book description.
Here is an example of Freebooksy Website Placement: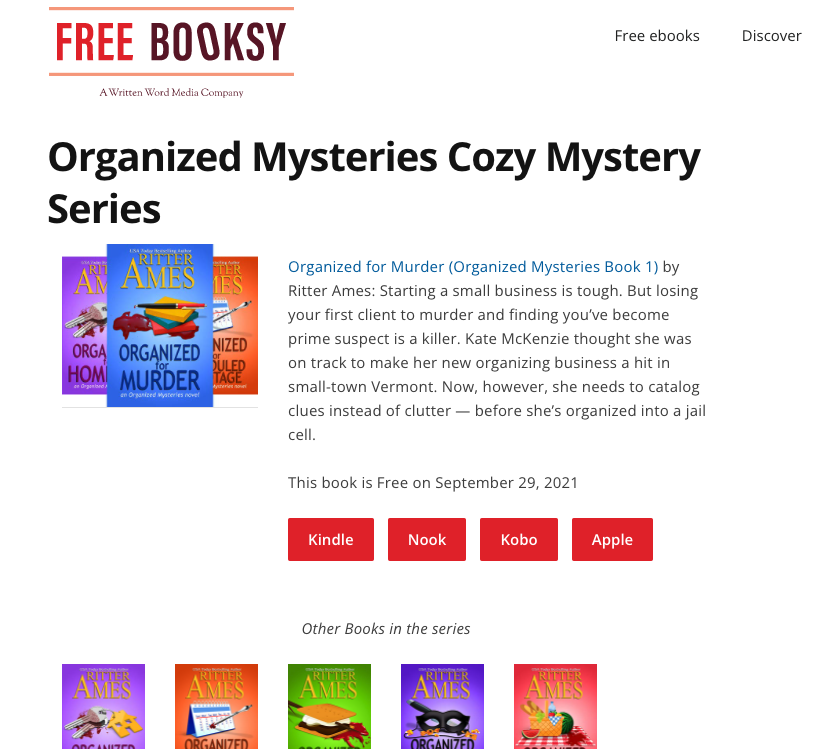 Social Media Exposure: We post the day's freebies on our Facebook page to over 300,000 followers. While we can't feature every book cover in our social media post, it drives readers to our website where all of the day's books are featured.
Here is an example of Freebooksy Social Media Placement: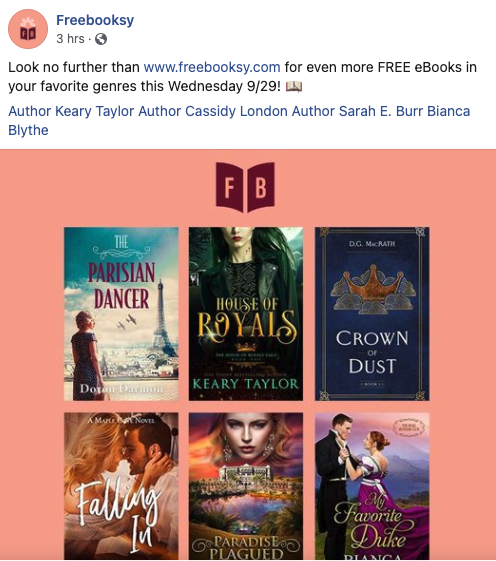 In order to be eligible for a Freebooksy Promotion:
Your book must be available to purchase on the US Amazon store. Apple Books, Nook, Kobo, and Google Play links can also be included if your book is available & free on those platforms.
We can feature books that are perma-free or on a price promotion. If you are unsure how to make your book free, click here to read an article we wrote for authors on this topic.
Freebooksy does not have a minimum review requirement for standard features. Editorial guidelines are more strict for premium placements such as Deal of the Day and Series Promotions. To read our full editorial guidelines, click here.
We love our authors & our team is always happy to help! If you didn't find what you needed here, please email us!
---
---